Within the framework of the "Companion Map Armenia" project implemented by "DiverCity" Social-Cultural, Human Rights Defender NGO, Organization creates the Armenian version of the "provodnik.online" application, for which the Organization needs some information.
The Organization sent official requests to the RA Ministry of Labor and Social Affairs, RA Ministry of Health, RA Ministry of Justice, RA Ministry of Territorial Administration and Infrastructure, RA Statistical Committee, RA Human Rights Defender's Office, RA Health and Labor Inspection Body, to Yerevan and Vanadzor Municipalities.
The text of the survey is quoted in the media file.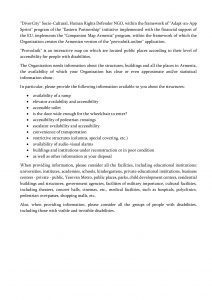 #CompanionMapArmenia #CMA #UghecuycArm #Ուղեցույց #DiverCityNGO #ԲազմազանությունՀԿ #ДайверСитиНПО #Diversity #Բազմազանություն #Разнообразие #LGBT #HumanRights #LGBTRights #DCNGO #DCProjects #Queer #LGBTPeople #PeopleWithDisabilities