May 17 is famous for the International Day Against Homophobia, Biphobia and Transphobia. On that day, in more than 100 countries, including Armenia, a lot of events take place to raise awareness on the LGBTQ+ people's rights.
Reflecting once again on the origins of the day, let's remember why May 17.  It is because in 1990 WHO decided to remove homosexuality from the list of diseases on May 17. On that occasion, several organizations, such as ILGA, the World Congress of LGBT Jews, GALHA and a few other organizations as well signed a call in 2005 to support the "IDAHO" Initiative after a year-long campaign started in 2004.
As in previous years, this year too, "DiverCity" Social-Cultural, Human Rights Defender NGO joined the events carried out within the framework of the #IDAHOBIT2023 Week in Armenia.
Being a youth and LGBTQ+ community-based Organization, DCNGO has repeatedly studied the public awareness about LGBTQ+ people and once again reported that the Armenian society is almost unaware of various issues, including LGBTQ+ people. Therefore, emphasizing this fact, we publish online infographics, which you can find on the Organization's social media platforms (
Facebook
,
Twitter
and
Instagram
).
(click on the infographics)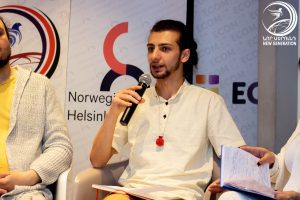 "DiverCity" NGO participated in the meeting-discussion organised by "New Generation" Humanitarian NGO. Representatives of Armenian State and International structures, LGBTQ+ community and community-based NGOs also took part in it.
The discussion was held on May 17, within the framework of the International Day against Homophobia, Biphobia and Transphobia. The NGO was presented by Artak Adam, Coordinator of Project and in Charge of Development. During the panel discussion Artak Adam particularly talked about the cases of discrimination and violence against GBTQ+ people at the conscription, mentioned the cases of violation that were recorded by the NGO during the recent year conscriptions.
It is crucial for us to help the society become more aware of the International Day Against Homophobia, Biphobia and Transphobia. For which, on May 17, we published an informational video.
Once again, we call on everyone to rely on the supremacy of fundamental human rights and freedoms, to speak up about the cases of discrimination against LGBT people and violations of their rights. 
We call on the LGBT community to be united, to continue fighting for opportunities to actualise their rights.
#IDAHOBIT2023 #IDAHOBIT #DiverCityNGO #ԲազմազանությունՀԿ #LGBT #LGBT_Rights