"DiveCity" Social-Cultural, Human Rights Defender NGO, within the framework of "Adapt-an-App Sprint" project of the "Eastern Partnership" initiative implemented with the financial support of the European Union, implemented the "Companion Map Armenia" project in February-March 2021, within the framework of which created the "Ughecuyc" web application.
The "Ughecuyc" is an interactive map on which public places are located according to their level of accessibility for people with locomotory problems. The whole territory of the Republic of Armenia will be included in the appendix. The location accessibility on the map is based on the opinions and assessments (available, not available, half available and other additional assessments) by the users who downloads and uses the application.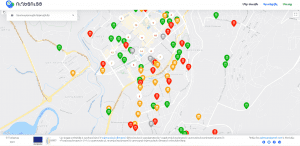 The application has passed the testing phase by the "ExterTest" organization.
The goal of the "Companion Map Armenia" proյեցտ was to create opportunities for people with locomotory problems; to speak up about the need to pay more attention to providing access to public places, especially after the Artsakh II war.
The "DiverCity" NGO has collaborated with a number of local and international CSOs and NGOs, and has involved more than 30 volunteers who helped to supplement the application.
On the other hand, during the implementation of the project, the "DiverCity" NGO has been in active written cooperation with state structures, including the ministries and Yerevan Municipality.
To follow the information about the "Ughecuyc" web application:
Youtube: Ուղեցույց | Ughecuyc.am
Telegram: @ughecuyc
Email: ughecuyc@gmail.com
Let's remind you that the mission of "DiverCity" NGO is to promote the protection of the interests of vulnerable and targeted people including LGBTQ+, people with different cultural and national identities, people with disabilities, women and girls; to create a safe environment for active youth groups and to contribute to the raising of issues directly related to the above-mentioned groups in the society.
#CompanionMapArmenia #CMA #UghecuycArm #Ուղեցույց #DiverCityNGO #ԲազմազանությունՀԿ #ДайверСитиНПО #Diversity #Բազմազանություն #Разнообразие #LGBT #HumanRights #LGBTRights #DCNGO #DCProjects #Queer #LGBTPeople #PeopleWithDisabilities